NYSEA Bracket Pull Event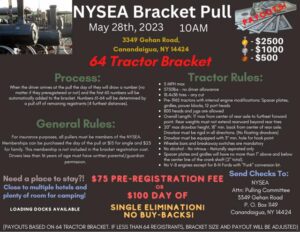 ENTRY Process:
$75 PRE-Registration Fee or $100 Day of

Single Elimination – No Buy-Backs!
If you wish to register in advance, make checks payable to NYSEA and mail them to:
NYSEA
ATTN: Pulling Committee
3349 Gehan Road
P.O. BOX 1149
Canandaigua, NY 14424
PAYOUTS:

– 1st Place: $2500
– 2nd Place: $1000
– 3rd Place: $500
Process:
• When the driver arrives at the pull the day of, they will draw a number (no matter if they preregistered or not) and the first 60 numbers will be automatically added to the bracket. Numbers 61-64 will be determined by a pull off of remaining registrants (4 furthest distances).
General Rules:
• For insurance purposes, all pullers must be members of the NYSEA. Memberships can be purchased the day of the pull, $15 for single and $25 for family.
• This membership cost is not included in the bracket registration fee.
• Drivers less than 18 years of age must have written parental/guardian permission.
Tractor Rules:
• 5 MPH max
• 5750 lbs – no driver allowance
• 18.4×38 tires – any cut
• Pre-1965 tractors with internal engine modifications: spacer plates, girdles, power blocks, 12 port heads
• 800 heads and jugs allowed
• Weights: 11' max from center of rear axle to furthest point of front weights. Rear weights must not extend rearward beyond rear tires
• 20" drawbar height, 18" back from rear axle centerline
• Wheelie bars and breakaway switches are mandatory
• No alcohol – No nitrous – Naturally aspirated only
• Spacer plates and girdles will have no more than 1" above and below the center line of the crank shaft (2" total).
• No V-8 engines except for 8-N Fords with "Funk" conversion kit.
DISCLAIMER: Payouts are based on 64 Tractor Bracket. If less than 64 Tractors register, bracket size and payout will be adjusted.