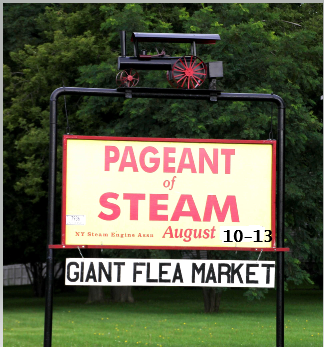 Join us at the 62st Annual Pageant of Steam
August 10th, 2022 – August 13th, 2022
Gates Open
Wednesday thru Saturday 8:00 AM to 8:00 PM
General Admission
Adults – $7.00
Children Under 12 – Free
Saturday after 4:00pm – $10.00 
Special Displays and Activities
Steam Traction Engines, Antique Tractors, Shingle Making, Grain Threshing & Baling, Corliss Steam Engines, Antique Gas Engines
Plowing and Saw Mill Demonstrations
Daily Parades of Equipment beginning at 1:00 p.m.
Tractor Pulls Daily
Live Music Wednesday, Thursday, Friday
All events subject to change depending on weather or other extenuating circumstances.
Live Music 
Bands performing Wednesday, Thursday & Friday nights:
Wednesday: Donna and the Mystics starting at 8:00
Thursday: Bev's Country Line Tribute starting at 8:00
Friday: Flint Creek starting at 7:00 p.m.
Tractor Pulls
Tractor Pulls Wednesday, Thursday & Friday beginning at 4:00 p.m.
Powder-Puff Pull during Wednesday pulls
Kiddie Pedal Pull on Friday at 2:00pm
Garden Tractor Pull Saturday at 9:00am
Saturday Night ESP Tractor Pull beginning at 6:00pm
Steam Engines will pull nightly during pulls as announced 
Concessions
Food is available at our five concession stands. Serving daily.
For more information, contact Rick Finley @ 585-721-6172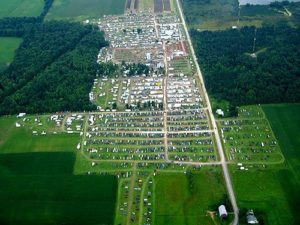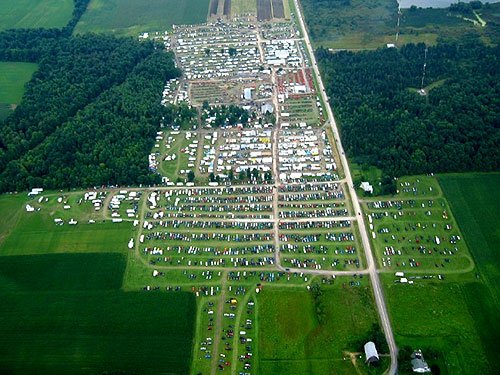 2000 Craft & Flea Market / Copyright @ Cloud Dancer Aerial Photography
---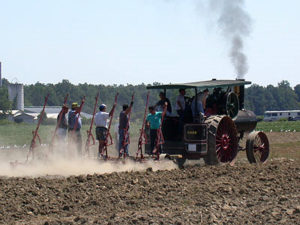 Brad Vosburg plowing with a 65 HP Case Steam Tractor with the engine plowing an 8 Bottom Rumley Plow